About Us
To say that furniture runs in a family's blood might sound a bit odd, but when talking about the Hope and Mike Glover family, the saying would be true. Especially when the Glovers' children, Amy and Tiffany, were literally raised in the furniture business. "Our daughter Amy visited the flea market store we had before ever coming home from the hospital after being born," Hope Glover said.
The Glovers, who own Hope's Furniture at 4315 Raleigh Road Parkway, attribute their success in the furniture business to treating their customers like family. "People love us because we're like family," said Glover. "And we take care of people like family." In fact, w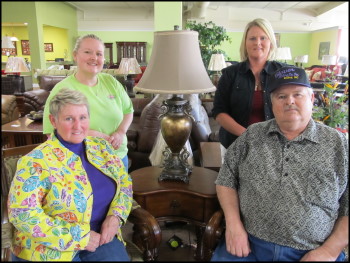 ith the exception of one employee, the entire store is run by members of the Glover family. In addition to Hope and Mike and their two daughters, their son-in-law Ryan Brewer and Hope's sister-in-law Michelle Edwards also works at the store. "I like to have someone who has my interests at heart working at the store," Glover said. "I have a family member on every delivery. I don't have to go behind any of them to make sure it's been done right because I'm certain it has been."
The Glovers entered the furniture world 28 years ago, buying antiques and used furniture at auctions. Hope was a lab technician at the time and Mike was farming. "We started selling furniture simply as a way to make a little extra money," said Mike Glover, who sold his first couch for $45. "Back then, that was a lot of money." In 1976, they opened a new and used furniture store in Bailey and Hope quit her lab job to work in furniture full time. Around the same time, Mike went to auctioneer school and they started an auction business near Bailey.
The Glover's branched out into flea market work, renting a booth at Bob Clark's warehouse in 1982. They then moved to Wainwrights's Warehouse where they began managing the entire flea market space. "I was buying new items that were unique and nice and selling them to interior decorators via the flea market," Glover said. "We were also farming tobacco and when tobacco season was in, I wasn't available to those decorators and they were kind of upset." A subsequent move to Liberty Warehouse ended two years ago when the tobacco business began using the warehouse year-round. Six years ago, while still working the flea market and farming tobacco, the Glovers decided to start their first free-standing store. They rented a building on Raleigh Road Parkway and called it Hope's Furniture. All this time, their daughters were growing up and ended up falling in love with the furniture business as well. "Our daughters have worked in the furniture business and helped on the farm since they were born," Glover said. "It's their love too."
When their second-born, Tiffany, announced that she intended to join the family business, Hope and Mike decided to open a second store, to be located right next to the first store. For three years, Hope's Furniture worked out of two locations. "We decided to build the third store so that when I got out of the business, it would be in one location for the girls," Glover said. "We love it under one roof.  It's amazing. Looking back, I don't know how we worked in two locations."  The current Hope's Furniture store opened around Christmas of 2010. The 30,000 square foot building holds furniture and home accessories for every room in the house and every person's taste. But as important as the variety and quality of the furniture are, Glover feels that treating customers fairly and like family is even more important. "The customer buying a couple lamps is just as important as the person buying $10,000 worth of stuff," said Glover.  "The people buying the lamps might come back, so we want their first experience to be a good one." Many of their customers simply stop by to chat, especially if they live out of town.
"We have a lot of out-of-state customers who come in off of Interstate 95 or come to Wilson to visit family and stop by, love what they see and buy," Glover said. "Then those customers drop in just to see us whenever they come back into town." Glover credits keeping prices low, treating customers like family, staying on top of quality control and always putting new items on the sales floor as the reasons her business has continued to grow despite tough economic times. "So many customers have seen me crawling and now they see how I've grown and grown, Glover said. "But you have to crawl before you can walk."
Hope's Furniture is open Monday – Saturday, 10 a.m. to 5 p.m.